When I first started planning before buying the 'van I thought I would smart everything up. Replace the plug sockets with USB ones, add smart sockets for all the devices, some LED strip lights, on and on…
When we actually took ownership of the 'van, I realised that this was insane and totally unnecessary.  What basic requirements did I have… One manufacturer for all smart stuff, local and remote control and finally Alexa control.
I will replace the double socket in the kitchen with a USB one to charge the fire tablet while it's in its mount. The rest I will leave alone. In terms of lighting the 'van has 6 dome lights, I will replace all 6 with new fittings and smart bulbs in all of them other than the bathroom which will just be a LED.
In terms of power I will add a smart strip in every room, the bedrooms currently only have a single plug socket and the living room has a single double. This should be enough for all our needs, especially as the plugs come with 2 USB ports!
Smart Plugs
While researching various bits I found a number of manufacturers now did extension leads with 3 or more plugs and USB sockets, some of them also had local "button" control. These looked like the perfect solution. I also had another requirement, that any device going into the 'van had to be easily controlled by home assistant. I was confident the Tuya "smart life" ecosystem would cover all these issues. I searched for a device that fitted the brief in full, unfortunately I couldn't find one that had the local control, essential for a no internet situation! Honourable mention here for Hey! I'm home who had a great and simple range and if they had buttons on the extension lead I would have definitely gone with them.
In the end the product that fitted the brief the best was Kasa by TP-Link. TP-Link have two ranges, I can't really work out the difference between the two, I guess it's an acquisition thing.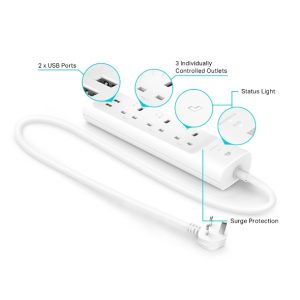 Let there be light!
As I was changing all the light fittings any way I decided to try some "value" smart bulbs. At home I am pretty much all in on the Hue ecosystem, not something I would do now if I was starting from scratch. Thankfully TP Link bulbs are good value and has a good range. I purchased colour bulbs for the living space and bed rooms and dimmable bulbs for the kitchen and hall way.  The bathroom will not be smart…
I am hoping that TP-Link will add some outdoor lights to the range as we are planning a deck / patio area in the next few years. Other than Hue there doesn't appear any strong outdoor lighting solutions yet, so fingers crossed.